Battle Royale games have become the talk of the town. Primarily PUBG is now every household's name.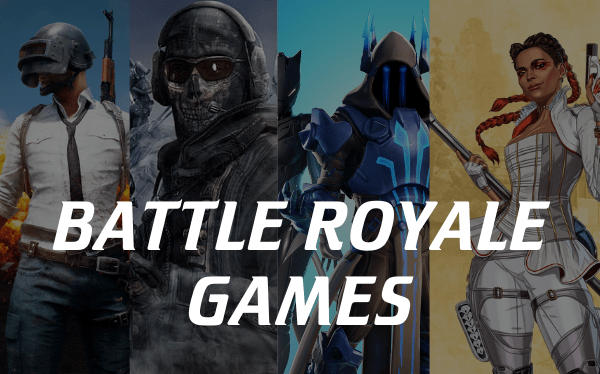 According to GameDaily, Battle Royale games revenue has surpassed 5 billion dollars by 2020. PUBG (2017), Fortnite (2017), Apex Legends (2019), and Call of Duty: Warzone (2020) all are the prominent names of Battle Royales, having received over ten million players within a few months of their debut.
Concept:
Battle Royale games gained popularity after the remarkable debut of PUBG. All the later Battle Royale games built upon the pre-established formula of PUBG, but these games do bring their own inventions and exciting variations.
Battle Royale games have some features that are common in all of them. These are as follows:
The Last Man Standing(LMS) will win.
Every player or team has to knock down all other opponents while contesting with 100 or 150 others.
Ever shrinking safe zone.
All players jump from a plane. Players have control over choosing where to land. One can hide in bushes waiting for the enemies to thin out. Or can defeat them in a direct encounter. The map area continues to narrow down, making it impossible for players to avoid confrontation. Players out of the safe zone are eliminated.
Players jump off the plane with little to no equipment. It provides a common opportunity to all participants, with no one having advantage over others. One has to garner weapons, armor, and medical equipment within the game to help them survive till the end. Players can loot the weapons of dead participants.
Battle Royale is a first-person shooting (FPS) gameplay where the players try to hang in there till the end.
The in-game social interaction with teammates provides fun, and teammates can devise new strategies on the battlefield. New updates, new characters, skins, and new map constantly adds to the excitement of its players. This is why millions of people are concurrent players of top Battle Royale games.
Most of these games are free-to-play and are available across different devices like mobile, computers, and consoles have maximized their popularity.
In Fortnite: Save the World, players can make the fortifications inside the game. It's like creating your own safe space for defense. Each game has its unique features. Respawn feature (ability to reappear after being killed) is also available in multiplayer mode in some games.
History:
Battle Royale mode is a relatively new concept. The term originates from the Japanese cult film "Battle Royale." It was based on a novel by Koushun Takami having the same name. The movie revolves around the same concept of the last man standing (LMS), who fights till death to become the sole winner.
More movies also got inspired by this idea of "Battle Royale". The creator, Hwang Dong-hyuk, of the famous show "squid game," expressed that this show is inspired by the same concept.
The contributions of Brendan Greene to this genre are huge. He is the man behind the most famous BR game,i.e., PUBG. His idea was to develop a mod where players contest till death on a shrinking battlefield with first-person shooter mode.
His idea and experience put their part in making this game a high success. There is a detailed history of Arma 2, Arma 3, and H1Z1 on Wikipedia which interested dudes may check over there.
Some Popular Games:
PlayerUnknown's Battlegrounds (PUBG):
Pubg is the pioneer of the Battle Royale genre. And it is hard to beat the absolute classic. Immersive gameplay full of excitement and thrill is the essence of this game.
The game starts with 100 players diving off a plane at their preferred area on an island. Then the players start collecting armor, medicine, weapon, clothing, and killing opponents in an ever-shrinking battle area with the only goal of surviving till the end.
PUBG is leading all the game charts i.e. most downloads, the most number of concurrent players, and most revenue generation among all.
Fortnite
This game is widely regarded as one of the best Battle Royale games. Its availability on different platforms, including mobile, consoles, and PC, has increased its player's range which allows them to crossplay as well.
Comic scenery, co-op survival mode, in-game concerts, and a battle pass system of rewarding players with ranks are the top highlights of this game.
New Fortnite seasons, new maps,, and Fortnite skins frequently come. The game allows players to be creative; they can create houses, walls, ramps, etc., to facilitate their survival.
The debate on PUBG vs. Fortnite is never going to settle as both games deliver extraordinary updates to their followers.
Apex Legends:
Coming in competition to a viral game like PUBG and still managing to get 50 million players just the first month after launch is no joke.
This game introduced an innovation called the Ping system, with which players can send signals to teammates about loot and locations without using voice chat.
It first included 20 squads of 3 players each. Now it has also included single and duo players mode. The game has 18 playable characters, each having its specification and ability.
Most Popular Battle Royale Games
The most-played Battle Royale games like PUBG, Fortnite, Apex Legends, and Garena free fire have hundreds of millions of players. Some popular games are:
.
(Available on PS4, PS5, Xbox One, Xbox Series X|S, Nintendo Switch, and PC)
Fortnite
(Available on PC, PS4, PS5, Xbox One, Xbox Series X/S, Nintendo Switch, Android, iOS)
Call of Duty: Warzone
(Available on: PC, PS4, PS5, Xbox One, Xbox Series X, and series S)
PlayerUnknown's Battlegrounds (PUBG)
(Available on: PC, PS4, PS5, Xbox One, Xbox Series X/S, Android, iOS )
CRSED F.O.A.D
(Available on: PC/Xbox One)
(Available on: Android, iOS )
Fall Guys: Ultimate Knockout
(Available on: PC and PS4)
Spellbreak
(Available on: PC, PS4, Xbox One, Nintendo Switch)
Zombs Royale
(Available on: PC, Android, iOS )
Super Animal Royale
(Available on: PC, Mac, Xbox One, Xbox Series S|X, PS4, PS5, and Nintendo Switch )
Totally Accurate Battlegrounds
(Available on: PC)
Unturned: Arena Mode
(Available on: PC )
Naraka: Bladepoint
(Available on: PC)
Blazing Sails
(Available on: PC)
Ring of Elysium
(Available on: PC)
Tetris 99
(Available on: Nintendo Switch)
Forza Horizon 4
(Available on: PC, Xbox One, Xbox Series X/S )
Best Free Battle Royale Games:
All these are free-to-play games but they may have in-game purchases for exclusive weapons, characters, skin, etc.
Fortnite
Call of Duty: Warzone
PlayerUnknown's Battlegrounds (PUBG)
CRSED F.O.A.D
Spellbreak
Zombs Royale
Super Animal Royale
Totally Accurate Battlegrounds
Unturned: Arena Mode
Ring of Elysium
Tetris 99
Forza Horizon 4
Impact:
The Battle Royale games are significantly popular, with PUBG (1120 million players), Garena free fire (1000 million players), Fortnite (350 million players), and Apex Legends (100 million players).
The games are addictive beyond belief. The thrill, excitement, fun, competitiveness, and sense of fulfillment when you win. The unique themes, challenging tasks, with everyone hustling to hang in there till the end, voice chat feature, and constant new updates; All these things have made these games a craze among youngsters.
These games are said to meet people's psychological needs as well. A professor at the University of Utah believes the tiers mentioned in Maslow's hierarchy of needs, such as physiological and safety, belonging and esteem, and self-actualization can be met through these Battle Royale games.
The opportunity of live streaming these games have attracted millions of people's attention. This genre is gaining popularity in esports. Hundreds of people making their careers in live streaming and esports.
Conclusion
Soon after PUBG debut, the Battle Royale genre has taken the gaming industry by storm. The history of how this genre evolved in just a decade is fascinating. Popular games of Battle Royale are generating billions of dollars in revenue. And the figures are expected to continue to swell in the coming years.