Creating amazing-looking names for your PUBG account is now very easy, there was a time when mobile gamers used to download different apps for stylish names but now you can do all this stuff on GamersArenaPro PUBG Stylish Name generator. Here we have more than 500 combinations of fonts and styles to make your game name more attractive and unique.
On this page, you will experience the latest version of the PUBG name Generator which is V.5.4, which will help you to get a fancy name that no other tool on the internet can provide.
What is Pubg Stylish Name Generator v5.4?
This is the most advanced version of the name generator tool by using it you can generate a unique name that will be a combination of symbols emojis and characters without surfing a lot of sites. Pubg Stylish Name Generator Version 5.4 was released in March 2022 by GamersArenapro a gaming website, for the ease of hardcore android gamers.
In the latest version of Pubg name generator team has claimed that a lot of improvements have been done in the application, new features are also part of version 5.4
How to buy PUBG Rename Card?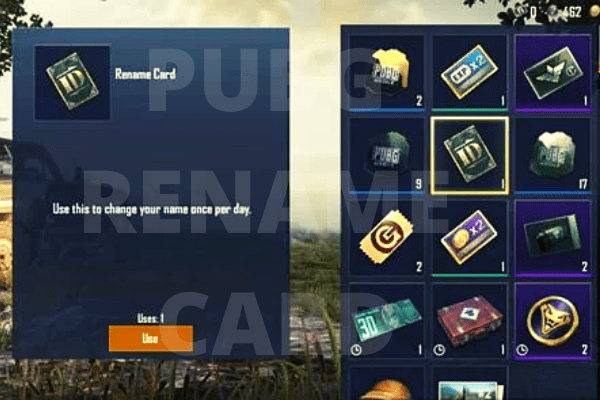 The first step to changing your name in PUBG Mobile is to purchase a Rename Card. This will cost you 180 UC, and it will allow you to rename your character. To buy a rename card you need to follow the steps given below:
Go to the 'Events' menu

Scroll down to the 'Customize & Utility' section and select the 'cards'

Purchase the Card for 180UC
How to Change the Name in PUBG Mobile?
To change your name in PUBG Mobile, follow the steps given below:
Goto: "My Account" menu,
Click on Inventory
Select Crate icon right side
Select Rename Card that you recently bought or there might be a free one
Write your desired Name and hitSave
Remember: You can change your name in PUBG Mobile as often as you like, but you cannot do this more than once a day without a rename card.
FAQs – Frequently Asked Questions
Is PUBG Name generator tool free?
Yes PUBG Name generator tool is absolutely free for every user
Who has the Highest KD in PUBG?
Babar Chaudhary a Pakistani player has the highest KD in PUBG with 2200 kills after 102 matches as far July 2022
How many times can I change my PUBG name?
You can change your name in PUBG mobile as many times as you want but it requires UC
How many UC does it require to change PUBG Name?
A PUBG rename card costs 180 UC that costs around 3$
Can I get PUBG mobile UC for free?
Yes you can get PUBG UC Free from Gamers Arena Pro
Conclusion
Now as you know how to make your name stylish in PUBG it's time to get some pro-PUBG costumes and there are absolutely free Yes you read it correct Free. read our PUBG-related section in site menu to know more about free stuff.