The Nintendo Switch is a video game console released worldwide on March 3, 2017. This Nintendo Switch is a tablet that can be used as a portable device or a home console. It means it's a Nintendo Switch, a hybrid console that most people would prefer.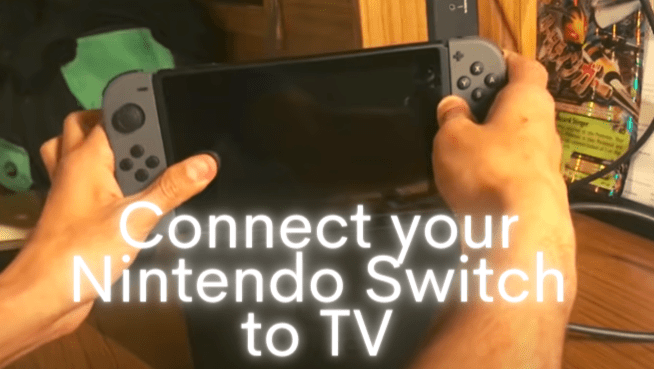 Playing in a tablet mode is good but if you want to enjoy an extraordinary experience, attach your hybrid console to the TV or PC. You will be able to have fun with the massive details of your games. A big screen also assists you in playing games with your friends. 
However, if you are not sure how to attach your Nintendo console to your Tv or PC, follow the methods below. 
Connect Nintendo Switch to TV
Here's how you can connect Nintendo Switch to TV:
The Nintendo Switch console doesn't work wireless. So, it would be best if you bought a cable first. 

Whenever you buy a Nintendo Switch, it comes with a gray-black dock. The dock contains two cable ports on its back. 

The upper port works for AC adaptors. It plugs into an outlet to supply power to the console. 

The lower port works for

HDMI 2.0 cables

to plug one end here and the other into your TV. 

After plugging the cable, close the back of the dock.

Place your Nintendo Switch inside the dock (slide in the console from the dock's top).

Detach your joy-con controllers from the sides of the dock. For this, press the "release button" on the back of your joy-con controller. 

Now turn on your TV and search for HDMI input. Some TVs contain a "

source button

" on their remote. Some TVs also include a menu for information in the settings (remember that Nintendo Switches cannot output in 4K resolution. Your TV display needs to be at least

1080p

).

After inputting, sit back and play your favorite Nintendo Switch game now on the big screen. 
Want to purchase new games on Nintendo switch for free? Get Free Nintendo eShop Codes Switch Gift Card Code and buy many games of your choice. Moreover, it's a no-survey deal! All you have to do is sign up for a free account and get your Nintendo eShop codes in just seconds. 
Connect Nintendo Switch to Laptop
Here's how you can connect Nintendo Switch to the laptop.
First, if you don't have one, you need to buy an Elgato HD60 HDMI capture card. And then follow the following points. 

Disconnect the HDMI cable of the Nintendo Switch from the TV and plug it into the HDMI In port on your

Elgato HD60 HDMI capture card

(this process is power-intensive, so you can also plug your console' dock and laptop into a power source).

Open the "game capture HD" on your computer. And turn on your Nintendo switch by pressing your controller's home button.

There is a USB cable that comes with the Elgato HD60. Connect it to the laptop and capture the card.

It should take only a few seconds for your Nintendo Switch home screen to appear on the

Game Capture HD

. If there is an issue, make sure you have the HDMI cable plugged into the In-port capture card and not the Out-port. It is present on the same side of the USB cable.

Now click on the "

full screen"

option on the top right-hand corner of game capture HD. And enjoy playing your Nintendo Switch games on your laptop/PC.
If you are a gift card and games lover, then here is good news for you to earn! Learn what is a gift card? And how to earn free gift cards by filling any surveys.
Final words 
We hope that this post was helpful for you to reach this end of it. So share your experience in the comments. Now play your Nintendo Switch games on a big screen, either on your PC or TV. 
Connect the console in minutes and start your daily challenges. Or invite your friends for an excellent experience.