There are obviously loads of attractive features and in-app purchases on the PUBG shop that allow users to get their hands on premium items. However, you'll need PUBG UC for most of these items. If you're an avid PUBG player, purchasing PUBG UC must be your first choice.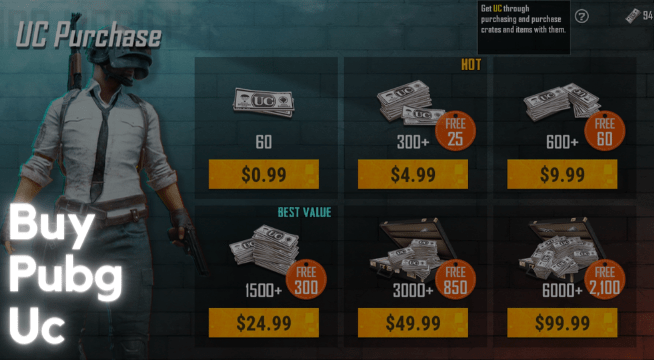 And if you're new to the PUBG world and looking for What PUBG UC is and How to get or purchase it – then walk through this PUBG UC guide containing everything you need to know about UCs!
What is the Full Form of UC in PUBG?
Unknown Cash is the full form of UC in PUBG. It is a virtual currency used in the game, and you can only use it for making PUBG purchases.
With PUBG UC, you can purchase the following items
New characters and Companions.

Treasures and Accessories.

Gun, Parachute, and Vehicle skins.

Battle Pass and Emotes.
How Much is 1 UC in PUBG?
1 UC in PUBG costs 0.0165 USD. But the point here is you can't buy 1 UC alone.
When you see the UC buying options in PUBG, you will find UC currency starts from 60UC, which will cost you around $ 0.99 in total. 
How to Get UC in PUBG? 
In the past, you could get PUBG UC only by paying real money or purchasing the premium Royal Pass. But now, you can earn UC through several ways.
Here are some of the best ways to get UC in PUBG:
Buy it.

Play PUBG Bonus Challenges.

Buy Royale Pass.

Ask your friends & family to give it as a gift.
How to Buy UC in PUBG Mobile?
Buying the UC in PUBG mobile is pretty simple. The best way is to buy it from the game store. All you need to do is follow these steps:
Log in to your

PUBG account

on your mobile.

Tap on the

UC icon

on the top-right corner of the

Lobby.

Choose how much PUBG UC you want to buy and tap on it.

Choose a payment method on the

Google Play Store.

Make payment.
UC will be automatically credited to your account once the payment is made. 
How to Get Unlimited UC in PUBG and PUBG Mobile?
In PUBG, there is NO legal way to get unlimited UC. And the free options available on search engines require you to do extreme effort before you get to enjoy your free PUBG UC. 
However, we've made the case simpler for you by diligently bringing you a bonus method to get free PUBG UC this season. Following this simple method, you can get your unlimited UC in PUBG and PUBG Mobile for free in minutes with an effort equal to nothing. 
How to Buy a UC In PUBG Emulator?
With the PUBG emulator, it is also effortless to buy UC.
Go to the official PUBG website to purchase PUBG credits. The website is compatible with all platforms, including PUBG emulators.
Then follow the following steps, simply!
Log in using your

PUBG account ID

on the website.

Verify the name of your id once you have logged in.

Select the amount of UC you want to deposit into your account.

Select a payment method and proceed.

You can pay via

Internet banking

and other options on the website. 

For billing purposes, enter your mobile number and email address.

Once payment is accepted, the selected UC will add directly to your PUBG account. 
You can now purchase items from the store directly from PUBG mobile emulator by logging into your account.
How to Buy PUBG UC In India After the Ban?
If you wanted to purchase UC, but a message is shown to you like: "The item you requested is not available for purchase." It means that PUBG is banned in your region. 
But no need to worry at all. You can still purchase PUBG UC in India or everywhere in the world even. 
And how to do that? Via Midasbuy!
Follow the following steps to buy UC after the ban:
Go to the

Midasbuy website

first.

Enter your ID by selecting the

Top Up

button.

Type in the amount of UC.

Make the payment using the preferred method.
Once payment is made, UC will be transferred into your account even if it is banned in India!
How to Gift, Transfer, or Send UC In PUBG?
As days pass, new features are added to the game. PUBG users can now gift, transfer, or send UC to their friends or fellow players.
How to do it? Here's how!
Login to your

PUBG account.

Click on the

ID

of your friend.

Select the

Send a gift

option.

Choose between

Gift for Spaces

and

Gifts in the Shop

.

Choose an option and click on the items you wish to send.

To purchase the item, you must now pay for the UC.

Once the payment is made, send UC to your friend.
How to Request UC In PUBG
Know that requesting UC in PUBG will only work if you have been friends with others within the last 24 hours and have a Synergy of at least 20.
Follow the steps to request UC in PUBG from your friends:
To request a Royale Pass

, you must receive an email from a friend who plays PUBG. 

To get an email, go to the Royale Pass

 option on the lobby screen.

Choose

Upgrade Pass

from the Royale Pass

 button.

Click

Send Request

.

From the lobby screen, click on the

Mail

button.

Visit the

Gift Center

and choose the

Reques

t menu.

To send a gift, tap on a friend's name and select the

View

button.

As soon as you have chosen your friend, you will be asked to read some important notes. Review them carefully and tap

Give

.
Cheapest PUBG UC In Which Country?
Currently, Brazil has the cheapest PUBG UC. i.e 0.73 dollars (roughly 54 INR). 
Besides that, Iran, Indonesia, Malaysia, and Algeria are countries with the cheapest UC in PUBG.
Conclusion
We hope this guide will be handy for you to know everything about PUBG UC. 
If you plan to play PUBG for the long term and are looking for options to give your characters competitive looks – then it's time to buy PUBG UC! After all, you'll need UC to purchase the game features.