We understand feelings get changed with time, and it needs renewal. It's not surprising that you are now a little bit tired of the almost virtual realities of IMVU. And deleting, disabling, or deactivating your IMVU account permanently seems a possible natural solution to hit the boredom.
So, here's a complete guide for you to deactivate or delete your IMVU account from mobile, PC/computer and how to reactivate it if deleted accidentally.
How to Delete an IMVU Account on the Mobile application?
To delete your IMVU account from the app;
Log in to your IMVU account.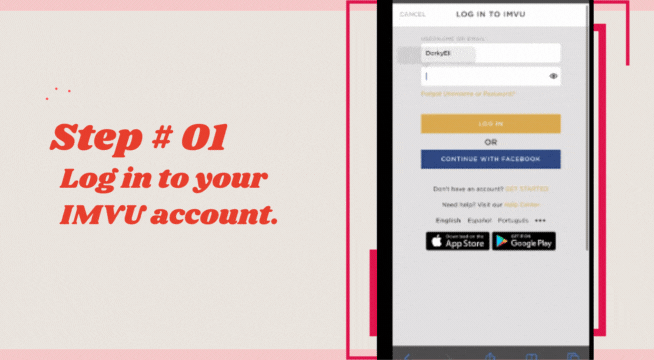 Enter your IMVU account

password

in the block and click "

Continue

."
A "

Success

" message will appear

confirming the permanent deletio

n of your IMVU account.

Now, even if you try to log in back using your previous credentials, you won't be able to do that, which confirms your deleted account's satisfaction.
(It will delete forever in a specific time decided by IMVU. Immediate permanent deletion is not possible.)
How to Delete an IMVU account on a computer/PC website?
Deleting your IMVU account has the same process either on a website or an application.
So, you can use the process we have described above to delete your IMVU account permanently on a PC or computer.
(Note: Open your browser and type "imvu.com" and then log in and apply the above process to delete your IMVU account on PC/computer permanently)
Can we Temporarily Delete or Deactivate our IMVU account?
There is no possibility of temporarily closing your IMVU account.
The best and only way you have is to deactivate or delete it (and recover it in 2 years) or keep it open as it is.
You can also check out different gift cards on this post.
How to Reactivate an old IMVU account?
We are all humans, and making a mistake is a part of our growth in life.
So let me ask first, have you deleted your IMVU account accidentally or just out of boredom and now want to reactivate it by any means?
Because no worries! We have got your back. You can reactivate your IMVU account in a period of two years. For that, follow these steps;
Open your

email

account.

Type "

IMVU

" in the search bar and click

Enter

.

Then open the email having the subject, "

IMVU Alert: Your account has been deleted

."

This deletion email also contains the

account reactivation link

.

Open

that link and

reactivate

your old IMVU account.
Now that you have your IMVU account back, this post of getting free IMVU credits is the next step you need.
Final Words
Using our method will help you to delete your IMVU account permanently. Besides, our reactivation process is also perfect for getting back your deleted IMVU account. So just delete your account and if you want to recover it, then try to go back on the platform within two years.
These steps will help you kill your account along with your boredom with the platform. Let us know in the comment section if the post was helpful.