With their on-time availability and no privacy leak issue, gift cards have become increasingly popular even among millennials. Gift cards are considered more appropriate because giving cash as a gift may be counted as socially ill-suited.
They provide ease to contributors of picking a particular gift for their clients. Some organizations also provide gift cards as a present or reward. One other benefit of these cards is that we can't convert them into cash, which is a plus point when a card is stolen or lost.
Here is all the crucial information that we have concluded regarding gift cards & Free Apex Coins.
Gift Cards FAQs
What is a Gift Card?
A gift card, also known as a gift voucher, gift token, or gift certificate, is a monetary-value stored card. Usually, the banks or a trader provide such money-alternate cards to purchase something particular at a store or allied businesses.  
Anybody can use gift cards as they are not assigned to a person's name and provide a number or code as an identification. Some gift cards can be refilled with money and are reusable. 
A very solacing feature of gift cards is that they are incognito, and we can discard them when the card's value expires. 
What is a Gift Card Code?
A gift card code or gift code is the crucial number printed on a card's back, just like on a credit or debit card. Remember that it is not any security PIN or CVV number printed on the card. You may or may not need a physical card to redeem your gift code.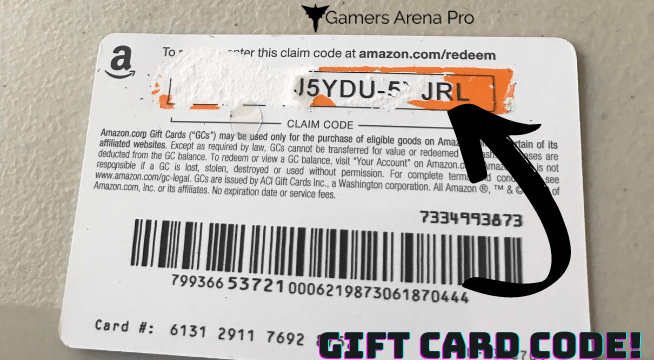 In physical form, scratch the coating on the code number at the back of a card.
In online form, you will receive a valid code, PIN, and amount on that card via email or text message. You can simply use them in stores by showing a screenshot (containing code and PIN) of your gift card to the cashier.
What is an E-gift card?
An E-gift card is the short form of an electronic gift card, called a virtual gift card, a mobile gift card, or a digital gift card. Paying through mobile has become a regular thing across the globe. So does digital gifting.
E-gift cards are just like standard online or in-store gift cards. It's a perfect alternative to a plastic card in your wallet. They are codes delivered through text messages, emails, smartphone apps, and social media. So you can easily purchase them online before visiting an outlet. 
Where can I buy a gift card?
Below are the platforms where you can buy gift cards and enjoy your unlimited online or offline shopping.
Amazon.com

: Besides offering its E-gift cards, amazon offers discounted gift cards for other brands as well. Amazon shows a "

Deal of the day

" daily. So stay alert and purchase gift cards as soon as they become obtainable.

One4all gift card

:

Post office

provides a unique card known as

one4all

to all their customers, a

multi-store gift card

that accepts more than 130 high street restaurants and brands.

GamersArenaPro.com

: At GamersArenaPro, you will find numerous gift cards (for gaming and entertainment) costing only time. Just go to the homepage, select the gift card you want, fill in the required information and boom! They will deliver your code to you through email.

Bonus

: it's absolutely free!

eGifter.com

: eGifter provides a bundle of exclusive and discounted gift cards. Just head over there, select the gift card you like the most, and use it online or offline; the choice is yours.

GiftCards.com

: Buy thousands of gift cards (available at discounted prices as well) online or delivered to your loved one in less than an hour. Just paste your login information, choose the gift card, add billing details (and recipient details, if any), and you are good to go!

Other similar and popular places to buy your gift cards include

Staples.com

,

eBay

,

grocery stores

(of your area) etc.
How to check gift card balance?
There are three ways to check the balance on your gift card.
Visit the card's website

: Flip over your gift card, and you will see the company's name at the bottom. Then visit the website and enter your gift card number and submit. Your card details will appear. (if the card details don't appear, then your card must be

expired

or

subjected to technical issues

. For this, contact the help center of the website.)

Call customer service

: Most gift cards have a "

Customer service number

" printed on their back. It's a

toll-free

number, so call on it. They will then ask you for your gift card details and will also answer your queries regarding it. 

Visit a nearby store

: Visit a store and ask the employer or cashier to check your gift card's balance. They will simply scan it and give you the receipt containing the card's balance at the bottom.
How to transfer the gift card balance to PayPal?
Using your gift card online is one thing; you can literally cash out a gift card that you don't need anymore by transferring it to PayPal. Here's how:
Go to the

Paypal-CardCash

website.

Enter the dealer's name and gift card value (balance), and click "

Get the offer.

" 

In case of an offer's availability, you will see the amount of PayPal balance you can interchange with your gift card.

If you want, Click "

Add card

" after filling in the information to add an extra gift card.

If the exchange offer matches your interest, click "

Continue

."

Then enter the gift card number and PIN, and click the "

Connect with PayPal

" option.

Now, log into your PayPal account, fill in the needed blocks, and click "

Get my PayPal balance

." 
What is a Tango gift card?
Tango Card is a business that provides rewards and incentives to its customers. Registering with Tango Card helps you to send donations, gift cards, and prepaid cards to whoever you want in minutes.
A Tango gift card or Tango card reward is a pliable E-reward (digital reward) sent through email. Tango cards control all the brand consent, legal approvals, inventory, delivery, tracking of electronic gift cards, and physical gift cards for more than 30+ retailers. 
You can now use Tango gift cards at Target, Amazon.com, Starbucks, gas stations, Dunkin' Donuts and grocery stores.
How to use an Airbnb gift card?
To use your Airbnb gift card,
Register an account on Airbnb or login to the existing one.

Go to the

Gift card redeeming page

.

Enter the number on your gift card (remember not to add space or dash, just numbers.)

Then enter your gift card's

PIN

.

Click the "

Redeem gift card

" option.

This way, it adds the card funds to your Airbnb account. These funds

won't expire

and are

not transferable

to another Airbnb account.
How to use a Visa gift card?
A Visa gift card is a prepaid gift card having a Visa logo. Being prepaid, it limits spending money to the amount on the card. 
While purchasing something using a Visa gift card, 
Enter the

expiry date

,

card number

and

3-digit CVV code

(on the back of the card).

If there is a box asking "

Name of the card

," don't be confused and just write "

Gift card.

" (you can also contact the card's customer service and ask for the name of your visa gift card). That's it! 

If you purchase something at a price higher than your Visa gift card, your purchase and payment

may not be approved

by the platform.
Where to buy a Newegg gift card?
Simply go to the Newegg website and buy the gift card of your choice.
For a

physical Newegg gift card

, click

here

. Your gift card will be emailed or delivered in 24 hours.

For an

online Newegg gift card

, click

here

. Fill in the required boxes and place your order. This online gift card

won't expire

. 

There is

no tax applied

on the buying of Newegg gift cards.
Amazon gift cards.
Amazon gift cards are the most popular and used gift cards by retailers. Down here, we have concluded all the particulars regarding amazon gift cards. So let's check it out!
Where can I buy an Amazon gift card?
Here's where you can buy Amazon gift cards and enjoy your online shopping.
Dundle.com

Mygiftcardsupply.com

Amazon.co.uk

Woohoo.in  

Carddelivery.com

Amazon e-gift Cards
How to use the Amazon gift card? 
To use an Amazon gift card,
Find your Amazon gift claim code (back of card).

Go to the "

Redeem a gift card

" page on Amazon.

Enter the claim code, and the "

Apply to your balance

" option.

After this, it deposited the funds to your Amazon account and will be implemented to your next authentic order from the site.
How to use the Visa gift card on Amazon?
To use a visa gift card on Amazon,
Go to the "

Reload your balance

" page (from your account).

Enter your Visa gift card's amount.

Sign in to your Amazon account. (this is required even if you are already logged in).

In your payment method box, click "

Edit

." 

You will then be redirected to another page. Click the "

Add a cart

" option here.

Enter your visa gift card details in the required blanks and click "

Next

."

Then choose your Visa gift card as the payment method and "

Done

" it.

It will redirect you to a new page, "

Reload your balance

" again. Verify the gift card funds and then click "

Reload

." That's it!
Can you see who redeemed an Amazon gift card?
It is not as easy as it sounds because Amazon has a strict policy regarding someone's information, be it personal or account-related. However, to see who redeemed your Amazon gift card,
Check the balance on your Amazon gift card.

After this, contact Amazon's customer support. You can find the contact details

here

.

Then ask them to send you the

transaction details

of all your Amazon gift cards to date.
Note: sometimes, they refuse to do so to keep privacy protection. But try to persuade them that you are 100% sure that swindling happened to your gift card, so you want to know the details.
How to print the Amazon gift card?
To print your Amazon gift card PDF at home,
Install

Adobe Reader

on your PC to open and print the PDF gift card.

Go to your Gmail and open the email you received from Amazon. ("

Your Amazon.com gift card is ready

"). The

other method

is to go on the "

Your orders

" page on Amazon, track the gift card order, and then click on the "

Order details

" option.

Now select "

Print gift cards

."

Then verify the details of the card (payment card) used for the

original purchase

. That's it!

You can

limitlessly print

your card but can only

redeem

your gift code

once

.
How to remove a gift card from Amazon?
To remove a gift card from Amazon,
Go to

Amazon.com

and log in to your account on PC.

You will then see "

Hello, (your name) Accounts & lists

" in the upper right corner. Click it.

From the drop-down list, click "

Your account

."

Then under the "

Ordering and shopping preferences

" heading, click the "

Your payment

" option.

Cards attached to your Amazon account will appear. So click the "

Down-arrow

" next to the card that you want to remove.

The down-arrow, on opening, presents more options.

Then click "

Remove

" next to the "

Edit

" button.

Now click "

Confirm Remove

." It will

redirect

you to another page,

confirming

your card has been removed from your amazon account.
Note: Any pending payments related to that card won't be called off.
How to cancel an Amazon gift card?
Here's how you can cancel your Amazon gift card delivery.
Log in to your Amazon account.

On the top right corner, click the "

Accounts & lists

" button.

From the drop-down list, select "

Your orders

."

Then find your order of gift cards.

 Click the "

Cancel item

" option next to the ordered card.
Final words
Buying gift cards and giving them as a present is a trend never going to end soon. People prefer giving gift cards as a small token of appreciation or at a store for payments, as it is entirely safe and unique. And you don't need a plastic card in your bag and the threat of it being lost.
After reading this informative post, we are sure you have quite an idea of what a gift card is? And how to use such code cards online or in outlets. 
As well, share your thoughts and confusions (if any) in the comment section, and we'll be there to answer it all for you!