Adding and removing funds from your Steam wallet has always been a burning topic among Steam lovers. Not to mention, the process is not that hard.
And today, we are going to make it easier for you by explaining every bit of this exclusive concept. You will get every answer from how to get and activate free Steam wallet codes, how to see your Steam purchases history, to how much money your Steam wallet can hold. Steam Wallet Being Taxed When It Has Never Been Taxed Before
So let's not waste any more seconds and jump right in!
How to Add Money to your Steam Wallet?
Down here, you will learn how to add money or any amount in a steam wallet:
Log into your Steam account from any device.

On the top right corner of your screen, you'll see your

username

. Click it to open a drop-down menu.

Click "

Account details

." You'll be redirected to your account page.

Click "Add Funds to your Steam Wallet" under the heading "Store & Purchase History."

Then, click "Add Funds" next to preferred currency. You can add $5 or above funds. You can also redeem your free steam wallet codes

" on the same page.

If you want to add any specific amount, click "Add Funds" next to the heading "Add Custom Funds."

Following this, the website will ask you to sign in again to confirm.

Then, select your

preferred payment method

. These include

Paypal, Visa, MasterCard, Discover, American Express, and JCB

. If you choose a debit/credit (Visa) option, enter your card's details such as security code, card number, expiration date, and billing details.

On clicking

continue

, you will receive your order's receipt on a new page.

Check the box of "I agree to the terms…." and click "Purchase." You will get a confirmation email.
Note: Refresh your Steam page or contact customer support if you don't see funds in your Steam Wallet in two hours.
If you are looking for free steam wallet codes (no survey), which you can add to your steam wallet, then go to the "Gamers Arena Pro" and get free steam gift cards in no time.
How to Withdraw Money from a Steam Wallet?
Here's the four-step method to transfer your Steam wallet to PayPal: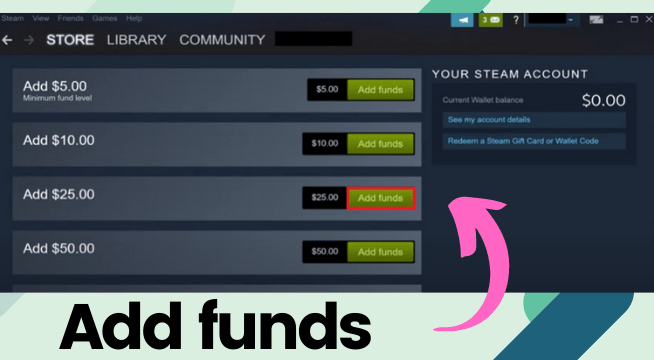 Buy easy skins

: The first step is to buy easy skins to sell on another site. We recommend purchasing the popular ones such as

Redlines, Arcanes, and Asiimov

skins, as you can later sell them quickly.

Sign up on a third-party site

: Third-party sites are those which offer you to sell your skins. These sites include

skinpot.com, Gmarket, and cs. deals, and more

. Then, make an account on the preferred third-party site.

Sell your easy skins

: After creating an account on the desired website, put your skins on sale at low prices. It will probably take

24 hours to sell

them.

Withdraw money to PayPal

: Once you have sold your skin, you can transfer the money to your PayPal account. The withdrawal will take almost 24 hours to process. That's it. Enjoy your actual Steam Wallet funds.
How Much Money Can a Steam Wallet Hold?
Steam limits the balance of a wallet to $2000. In other countries, they restrict the wallet to a value closer to $2000.
Steam also restricts the highest price of a single listing to $1800 on the market. It is the same for other currencies as well.
How to Activate a Steam Wallet for Free?
Although many sites on the internet offer Steam wallet codes for free, they require you to solve surveys, earn points, and get rewards. All this is time-taking!
What Is A Steam Wallet?
The Steam Wallet is a digital or virtual bank that Steam provides to its users. When users buy funds/credits or win any money-like bonus, it goes to their Steam wallet. Using these funds, users can purchase various games or in-game items.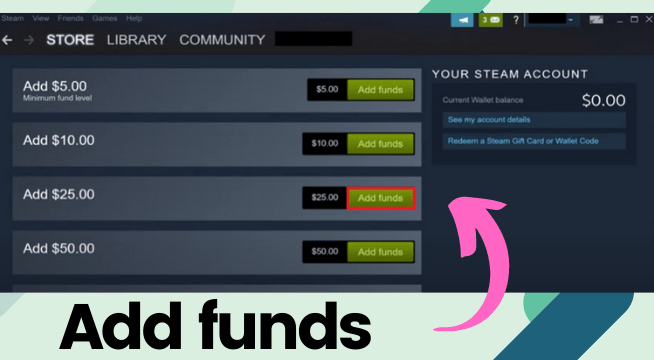 How to Add Steam Wallet Money Through Amazon?
Here's how to add funds into your Steam wallet through Amazon:
Go to

Amazon.com

and buy a Steam gift card of your choice.

Once you receive your Amazon-bought physical Steam gift card,

log in to your Steam account

on PC.

Then go to "

Games

" and click

"Redeem a Steam Wallet Code."

On the redemption page, enter your wallet code, present on the

back

of the physical steam card.

Click "

Continue

" and enjoy your steam wallet funds added through amazon.
What If My Steam Wallet Funds Don't Cover My Buy Orders?
If your Steam wallet funds are not enough to carry out a buy order, then your specific buy order will be canceled automatically.
How to See Previous Steam Wallet Codes?
To check your redeem Steam wallet code's history:
Log in to your Steam account from anywhere.

Click your "

Steam wallet

" under your profile on the

top

right corner.

Then click "Store Transactions."

Here you can see all your Steam wallet history.
Final Words
It was easy, wasn't it? Using this method described above, add unlimited funds to your digital bank of Steam and purchase high-quality games and in-game items.